Casbah
2501 Kettner Blvd, San Diego, CA
Thu,
Mar 23
8:30PM
(

7:30PM

DOORS)
Live from Casbah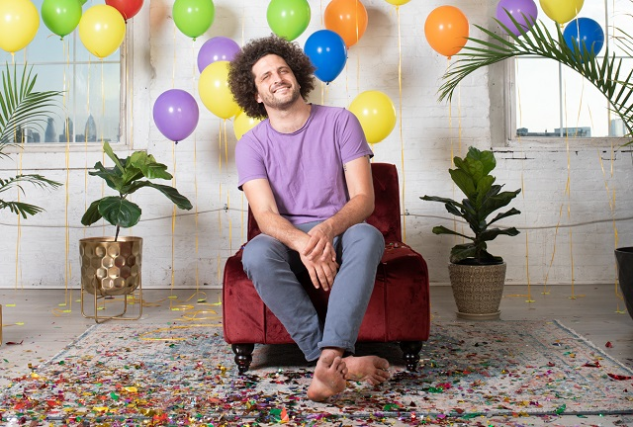 BELLY UP PRESENTS
AT CASBAH
2501 Kettner Blvd, San Diego, CA, 92101
Casbah is General Admission - Standing room only.
THIS SHOW IS NOT AT BELLY UP.
Genre: blues rock
Ticket Price: $22 advanced / $25 day of show

Not on the e-mail list for Presales? Sign Up to be a Belly Up VIP and you will never miss a chance to grab tickets before they go on sale to the general public again!
Andy Frasco & The U.N.

For better or worse, Andy Frasco has been married to the music industry since before he could grow facial hair. At just sixteen, Frasco worked for labels like Drive-Thru Records and Capitol, booking nationwide tours for his pop-punk heroes and wheeling and dealing on calls he'd take on the sly during lunch. He's been on road since he was 19, played over 250 shows per year for more than decade, lived on bad bar food, and slept in vans, and now, after more than a decade on the musical grind, he's finally finding himself. He's not a frat boy (he barely went to college) and he's not Mr. Cocaine anymore (his old nickname in Germany), he's a musician — and he's ready to share that with the world. "People stopped thinking of me as just this party boy, one-trick pony who crowd-surfs and throws organized chaos on stage," he says. "They started listening to my words."

Frasco grew up a Warped Tour kid in L.A., idolizing flashy frontmen who dove into the waiting arms of their frenzied fans. He wanted to be part of the music industry, by hook or by crook, and started out mapping his future with an eye toward industry bigwigs like David Geffen. When the labels stopped calling, however, the 19-year-old blew his Bar Mitzvah money on a van and started traveling around the country with a handful of half-songs he wrote while teaching himself piano, collecting musicians on the road — like a modern-day Pied Piper — to form his appropriately named band, Andy Frasco & the U.N. The current lineup includes Shawn Eckels (guitar), Andee "Beats" Avila (drums, vocals), Floyd Kellogg (bass guitar), and Ernie Chang (Saxophone).

The group's sound ping-ponged between punk, disco, and everything in between until two years into their tour of every bar in the U.S. they happened upon an old joint in Mississippi, where Frasco fell in love with the blues. "I just remember being there and seeing the atmosphere, people smoking cigarettes, and everyone's just having a great time and letting loose," he says. "That made me realize, oh yeah, music isn't supposed to be serious. I wanted to bring this party atmosphere to blues music."

To hear him tell it, Frasco may have spent a bit too much time enjoying that party atmosphere. Addicted to coke and one-night stands, it took the musician more than a few years to work out what he really wanted out of life. After suffering an anxiety attack in 2017, he recalibrated, and although the band had put out their share of albums over the years, he really broke out with 2019's aptly titled Change of Pace. The true change of pace, however, came when Frasco started doing his podcast the year before, Andy Frasco's World Saving Podcast, in 2018. During the beginning of the pandemic especially, Frasco says he forgot about music in favor of investigating his mental health through the podcast, where he has interviewed the likes of Tony Hawk, Khruangbin, Melissa Etheridge, Bert Kreischer and Stevie Van Zandt.

His split from music didn't last long, however. When he realized he was about to go back on the road in 2021, Frasco decided it was time to sink or swim. He needed an album's worth of new music and he had 30 days to do it. What followed was a whirlwind tour of the country during which he collaborated with scores of musicians to create Wash, Rinse, Repeat, which drops April 8th via his own label, Fun Machine Records. "This was my chance to learn my craft and fall in love with songwriting again," he says. "This is me. This is how I feel. I'm not trying to write songs for other people anymore. I'm just trying to write songs that help me. And hopefully through that, help others, too."

The result is 12 songs that span Frasco's experience as a musician — and a man. There's the strummy ballad "Grow Old," about finding love for more than a weekend and being ready for it when it shows up at your door. The tongue-in-cheek stomper "Dancin' Around My Grave" (written with Charleston bands Susto and Doom Flamingo) in which Frasco plans his own funeral if he were to die young — accompanied by a video depicting a Lakers-themed service (he's a life-long fan). "A lot of people really related to that song and that's helped me get over the hump during the pandemic," he says. The rocking title track "Wash, Rinse, Repeat," also touches on the pandemic — and the joy we'll all feel when the world is finally back. Then there's "Spill the Beans," a Western-tinged track about being honest about your addictions. "It's a song about not suppressing your addiction so you can get through 'em and recover through 'em," he says.

The song that most accurately capture's Frasco's current mindstate? The one that exemplifies everything he's been through and what he's really about? That would be "Puff Break (Believe That)," an uplifting ode to picking yourself up and trying again. "I love inspiring songs," Frasco says. "I know sometimes they're cheesy, but I wanted to write a song about how it's OK to wake up some days and be depressed. Even if you're feeling low, take a deep breath, walk out of that house, have a cigarette and let's get this day going, you know?"

And Frasco has a lot to look forward to in 2022. With tour dates at the lines of Red Rocks Amphitheatre (on June 18th) and Bonaroo on the horizon in June, he has more than a few opportunities on the way to share his words with the world.

Big Something